新教室・香林院にて初回授業&イベント開催!
Easy Japanese Stretching Exercises Lesson @ Kourinin Temple
■date/スケジュール
Jan 19th 2014 2014年1月19日
12:00~14:00 "Easy Japanese Stretching Exercise"
                        「お能でストレッチ体操」
       WAC Stretch Excersise Course rep. Misako Sakon
       WACストレッチ体操教室 主宰 左近美佐子
                    Fee:3000JPY     料金:3000円
14:00~15:00 "Ise Shrine Shikinen Sengu" ~Circulation with Nature~
       「伊勢神宮 式年遷宮」 ~自然とともに循環する~
       Photographer Miori Inata
       フォトグラファー 稲田美織
       Fee:1500JPY (WAC Member ¥1,000)
                   料金:1500円(WAC会員 1000円)
17:00~18:00  "Za-zen (Only for applicants)"
          希望者のみ座禅
                     Ko-lin temple Chief Priest 金嶽宗信
        香林院 住職 金嶽宗信
                     Fee:Free (require reservation)  料金:無料
■Sign up/お申し込み
WAC Stretch Excersice Class
Email  wac@wac55.com
Please email us to the address above with "I attend the Course at the Ko-lin
temple in 19th Jan."Please let us know the number of participants and names.
0120-350-924
WACストレッチ体操教室
Email  wac@wac55.com
メールにて上記アドレスまで「1/19香林院の講座に参加します」とご記入の上
参加される方のお名前と参加人数をお知らせください。
0120-350-924
■What is "Easy Japanese Stretching Exercise"?
The Japanese body manners that inherited from ancient era makes our body and mind to unite. (Japanese body manners: The movement by performing Japanese traditional arts Noh, Za-zen, Seiza(sit straight in tea ceremony) and so on)
Our "Easy Japanese Stretching Excersise" applied these traditional arts body manner.
This method will effectively encourage the flow of vital energy and blood by stretching slowly and politely.
In order to gain your true beauty and strength back to your body, this course relax your body habit by exercising the deep muscle.
You can reexamine the Japanese mind and make you feel fine of mind and body through this exercise.
■お能でストレッチとは
日本の伝統芸能の能や、茶の湯の正座、座禅など、古来より日本人が受け継いできた身体作法は心と体を一体に整えるものでした。
お能でストレッチ体操はこの身体作法を応用し、気血の流れを効果的に促しながら、丁寧にゆっくりストレッチする方法です。
ながい時間をかけて凝り固まってしまった身体のクセをほぐし、深層筋を鍛えてゆくことで、体が本来持つ力や美しさを取り戻してゆきます。
和心を見つめ直し、心と体がすっきりします。
■Intensive Course
Korin-temple in Hiroo is offering an intensive course once in a month, that make you reexamine Japanese Culture.
First half offers an"Easy Japanese Stretching Exercise".That trim your body and heart by using Japanese body manners.
Second half offers a variety of topics in order to gain the knowledge of Japanese culture deeply.
Our initial lecture, a photographer Inada Miori who is living in NY and have been taken holy sites around the world, will talk about Shikinen Sengu of Ise Shrine.(English guide available)
■集中講座
広尾校・香林院では月に一回、日本を見つめ直す集中講座を行っています。
前半は和の身体作法による「お能でストレッチ体操」で心と体を整えます。
後半は日本文化を深く知るためのカリキュラムを毎回様々なテーマで行います。第一回目の今回は、世界各地の聖地を撮影されているNY在住のカメラマン稲田美織さんが、伊勢神宮の式年遷宮についてお話します。
■Guest Speaker:Miori Inata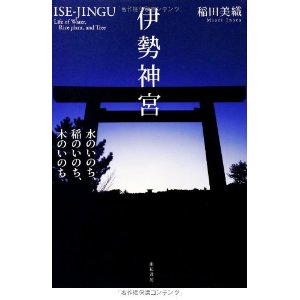 I graduated from the Fine Arts University in Japan, and worked there as a Fine Arts teacher. In 1991, I moved to New York and lived there for the next seventeen years. Living in New York, I was exposed to the essence of art in the sheer abundance and variety all around me which awakened me as an artist.
I witnessed the terrorism of the World Trade Center from my apartment window on September 11, 2001. It made me think deeply which direction human beings should go, which path the Gods around the world would direct us. I wanted to stand in the places considered the place of prayer to understand. I visited the holy places in the world, continuing to take photographs of each place to see if I could find any answers. Then I went to the Ise Shrine of Japan, and here I realized that human beings have been supported by nature itself, and the deep reverence for nature brought a quiet feeling of deep understanding, of a sense of harmony and peace. I have been taking up the photographing of the Ise Shrine as my lifework since then. (Miori Inata)
■ゲストスピーカー:稲田美織
1991年からNYで写真家として活躍する。
2001年、NY同時多発テロをマンハッタンの自宅で目撃して以来、それぞれの祈りの聖地を訪れ、イスラエル、パレスチナ、ネイティブインディアンの地、メキシコ、ギリシャ、ウクライナ、フランス、アンコールワット、雲南省チベット寺院など、世界中で撮影を続けている。2005年から、導かれるように「伊勢神宮」の式年遷宮の撮影を開始し、ライフワークにしている。
撮りためた聖地の写真を日本、ニューヨークをはじめ、モナコ、イスラエル、ヨーロッパなどの美術館、ギャラリーで展示している。
世界中で講演会や様々な媒体に出演、出版などを発表している。